Our Reopening
Interlaken is now permitted to operate under the Phase 3 guidelines provided by Governor Lamont and the State of Connecticut Department of Health. We understand that these standards will be a new experience for all of our guests as we enter into a new era of hospitality in our little corner of Connecticut. Our main concern is the safety and well-being of our guests as well as the health of our dedicated staff members, and all of our procedures reflect the need to keep every person on our property safe.
While the State Guidelines provide a way for the resort to reopen in as safe a manner as possible, risks to guests and employees cannot be fully mitigated. Guests who choose to visit the resort at this time should be fully aware of potential risks. Please understand that these guidelines are mandated by the State of Connecticut, not Interlaken Inn, and we must uphold the policies that have been put in place, and we urge everyone to do the same.
Face Masks
All staff members will have their temperatures monitored daily and wear face masks in all public areas. Guests will be required to wear face masks or cloth face coverings while at the resort in all public areas, except when eating or drinking, or unless doing so would be contrary to his or her health or safety due to medical conditions. This includes outdoor areas where social distances guidelines cannot be fully adhered to. We will update our face mask policy in accordance with the guidelines set forth by the CDC and the State of Connecticut.
Hand Washing and Sanitizing
We have added Hand Sanitizing Stations at all of our exits to ensure guests are comfortable entering and exiting our buildings. This is in the form of spray sanitizer and wipes for doorknobs and hands. Signage about proper hand washing is posted in all restrooms as reminder to guests and staff members.
Social Distancing
We ask that all guests practice social distancing throughout the property by staying at least six feet away from other guests not traveling with them. We have setup physical markers in areas where lines typically form to assist guests in maintaining appropriate spacing. We have spaced furniture in our pool area and at our lakefront to reflect these distances and chairs should not be moved from these locations.
Increased Cleaning Procedures
Our Housekeeping Team will be increasing cleaning and disinfecting measures throughout the property. The frequency of cleaning and disinfecting in all areas will be increased, including our public spaces, restrooms, gym, and other high touch areas around the property. Stairwells, handrails and doors will be cleaned throughout the day.
Hotel Guests
Beginning in July, we will be checking the temperature of guests upon arrival. Guests found with a temperature above 100.4 degrees will be turned away and referred to the local hospital for testing. Guests will be allowed to enter once receiving a negative test result.
An email will be sent 1 week prior to arrival to inform our guests of our new policies as well as providing them the ability to fill out a credit card authorization form, allowing us to check them in without the need for a credit card at arrival. This will allow us to control lines, should multiple guests arrive at the same time. Any requests for services or amenities will be taken via phone call or Zingle text only.
Housekeeping services will be available at the discretion of each guest to ensure there is no unnecessary contact between staff and guests. You will be asked on arrival to schedule your service, as guests must be out of the room for us to be able to enter. We will offer daily garbage pickup and towel service for all guests if they do not wish to have a full service. Cleaners will wear masks and gloves in each guest room.
To allow for more thorough cleaning of our rooms all magazines and books have been removed. State Guidelines also required the removal of non-essential amenities including pads, pens, and pamphlets.
Hotel Check Out is at 11:00am, Late Check Outs and early arrivals will not be available to provide our housekeeping staff with the required time to clean our rooms.
Restaurants and Bars
We will continue to offer our complimentary continental breakfast until November 1. After November 1 we will no longer offer a complimentary option for breakfast.
For dinner, Morgan's will be offering a menu of to-go options Wednesday to Saturday from 5-8pm. We will be offering the following menu, which is subject to change.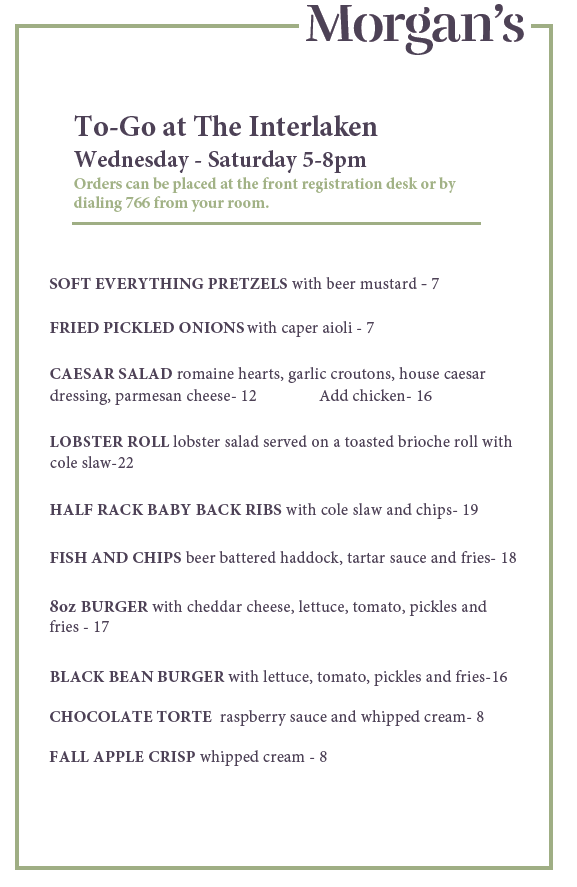 Ellora Spa
For details regarding spa services and safety guidelines please call the spa directly at 860-435-1305 or dialing extension 181 from your room.
Fitness Center
Guests visiting our fitness center are required to wear a mask while exercising and must maintain 6 ft of space from other guests. Occupancy in the fitness center cannot exceed 50% of the normal capacity. A sanitizing station will be available to wipe down equipment and hands as needed, as well as cleaning throughout the day by our staff.
Outdoor Pool and Lakefront
The capacity of our outdoor pool has been limited to the number of people that can safely fit on the pool deck area while maintaining the 6 ft social distance guideline, including 3 ft wide walking paths. Guests will be required to wear face masks while in the outdoor pool area except when seated or while swimming.
Chairs on the lakefront will be spaced 6 ft between groups not traveling together. We encourage people to bring blankets, as chair capacity will be less than in the past due to regulations. Guests will be required to wear face masks when social distancing guidelines cannot apply. Canoes and Kayaks will be available for guests to use, but will require cleaning should you wish to use them. A sanitization station will be located at the lakefront with wipes and cleaner to be able to safely clean these items.
Lawn Games will not be available at this time.
Tennis Courts
The resort has one tennis court and two pickleball courts, however only one court at a time will be available for play. Guests can reserve access to the courts by calling our front desk. Tennis rackets are available to borrow and will be sanitized between each guest use.