Chef's Corner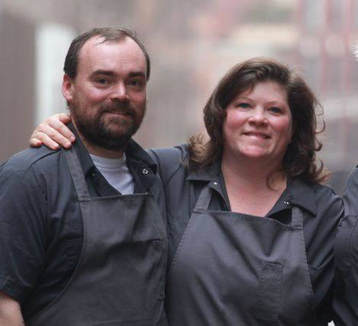 How did the two of you meet?
[Daire] James worked in New York City at April Bloomfield's The Breslin Restaurant with my cousin. He was looking to get out of the city and I needed a Sous Chef at Allium in Great Barrington where I was the executive chef. We worked together for several years at Allium until the parent company restructured. I took over their Mezze Catering & Events division and James took over at Allium. Besides creating great food together, we also found we had so much more in common. We fell in love and, five years later, we were recently married in Mexico and decided to come work at The Interlaken!
What is your vision for the food scene at Morgan's restaurant?
[James] Daire and I have a passion for cooking simple, well-executed food with great ingredients. We love using local farms and producers and want to have a balance between fine dining and casual, delicious street food. We love bar snacks and food you can eat with your hands, and we also love great steaks, fresh fish and salads. We will be launching a new menu in early April so we invite you to check in with us and see what we are cooking up!
Why do you think the Interlaken is the right fit for the two of you at this time in your life?
[Daire] The Interlaken is a beautiful, warm place that we are excited to be a part of. I have fond memories of working in the gift shop here which my Grandmother, Betty Rooney, ran a number of years ago. I also did an internship in the kitchen during high school. Kevin Bousquet reached out to me a few years ago but I wasn't ready to make a move at that time. Jim and I really were yearning to work together again after a few years of running separate kitchens. This time when Kevin called, we felt like it was a perfect time and the perfect place for us to be a great team and make some positive changes for the community and for people visiting from far. The Interlaken has always welcomed family and we hope to someday raise a family of our own here.
What do you think will be challenging about running the food program at the Interlaken?
[James] We know we have our work cut out for us as far as getting the word out to the community that a great new food scene will be happening here. People are always looking for a great place to eat and drink and we want that to be at Morgan's. We want the local community to also be excited about a new, fun place to go.
Do you have any events coming up that you want to let people know about?
[Daire] We will be having a special menu for St. Patrick's Day on Saturday, March 17th. We are also planning a big brunch for Easter Sunday starting with an Easter Egg Hunt for the kids. The following week we will launch our new menu for Morgan's. In early April we will also be serving Brunch every Sunday and re-opening for lunch 7 days a week. And in late April, Interlaken will have a brand new deck to enjoy dining alfresco. There is so much new happening here and we are very excited to be a part of it all.